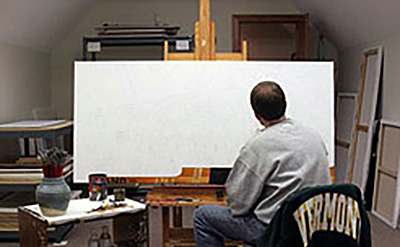 Capturing a Day Gone By
Summer ripens in a dust of light beneath Terrence Fogarty's paint brush. Autumn comes alive with points of fire and color for an artist who turns dabs of oil paint into ultra-realistic artwork. The artist's unique ability to connect with our emotional attachment to sports is a hallmark of his work.
Terrence lives with his wife Karen, daughter Elizabeth  and the family dachshund 'Georgia' in Victoria, Minnesota. He was born March 30, 1960 and grew up on the east side of St. Paul, a working class Minnesota city where memories of attending events with his father inspired his love of sports.  After graduating from St. Paul Johnson High School in 1978, he focused on art at Southwest Minnesota State University under the guidance of highly respected artist Edward Evans. The opening night of his 1982 senior art exhibit featured large paintings of boxers down for the count; the crowd of art lovers puffing cigars and enjoying tapes of classic Joe Louis-era fights played through a vintage console radio.
Many early  paintings were commissioned by sports memorabilia companies, such as the Danbury Mint and the Hamilton Collection. These pieces had an illustrative quality and provided work opportunities for a young artist, but left scant room for creativity. As Fogarty's work progressed, the art became more innovative and more personal. Among those early pieces that caught the imaginations of collectors were panoramic paintings of old stadiums and sports arenas. The very first- 'Mariucci Arena'-was a novel and exciting view of a fabled University of Minnesota hockey venue. Amatuer and youth sports has always been, and continues to be, a favorite subject of the artist. Depictions of youth hockey and town baseball have been a staple of  Terrence Fogarty's portfolio over the years.  More recently Fogarty's work has ranged beyond the world of sports to include aviation and vintage train artwork.
Precision work with pencil, paint
Terrence Fogarty's paintings can sometimes take months to complete.  Meticulous research and attention to detail is the foundation of his art.  For example, if a painting requires a specific type of barn in the background, Fogarty will head out with a camera looking for a barn in the exact setting that he envisions for the painting. The artist will also utilize live models, staging scenes and recording the details with a camera for reference in a painting. The studio work starts when the artist stretches up a canvas and begins to sketch his composition in great detail with a pencil. It might be two weeks before paint hits the canvas.  Fogarty prefers oil paint, because the medium produces rich, vibrant colors and the opportunity to work with paint that stays wet for a long time. The result sparks scrutiny. Brush strokes become evident only upon close examination.
The artist usually completes only eight to twelve original works annually, although limited edition, signed and numbered reproductions enable his work to reach a wider audience. The artist is often commissioned by professional, collegiate and amateur sports organizations to create commemorative paintings and also accepts private commissions when his schedule permits.
Notable Work
The original painting "Life of a Legend" depicting Mickey Mantle's career sold for $88,500 at Guernsey's Auction of Mantle memorabilia on December 8, 2003 in New York. The painting had been a fixture at the Mick's restaurant on Central Park West for years, and was described in the auction catalog as, "One of the most unique documentations of the career of a sports legend ever created."
In 1986, Hall of Famer Dave Winfield commissioned a painting by Fogarty to commemorate the Toronto Blue Jays first division crown. The painting, "Jays Clinch East" sold for $38,000 at the Conn Smythe  Sports Celebrities Dinner in Toronto. Proceeds benefited the Easter Seal Society.
Terrence Fogarty has created art for many notable sporting events including the prestigious Minnesota State High School Hockey Tournament, the 1988 America's Cup Yacht Race, the Minnesota Twins' 40th Anniversary Season and Hall of Fame inductees, the 2004 National Hockey League All-Star Game and the 2014 Major League Baseball All-Star Game.
Corporate clients (partial list): Jokerit HC-Helsinki, Finland, Fox Sports North, University of  Vermont Athletics, USA Hockey, Ohio State University, Pheasants Forever Wildlife Organization, Chrysler Motors Corporation, CBS Columbia Records, Major League Baseball's Tampa Bay Devil Rays, Milwaukee Brewers and Minnesota Twins, University of Minnesota, the Hamilton Collection, the Danbury Mint, Minnesota Wild professional hockey team, the Hobey Baker Award, Tim Horton's restaurants, TCF Bank, White Mountain Puzzles and North Dakota State University.